Steven D.K. Ross, M.D.
Chair of the Department of Orthopaedic Surgery
Clinical Professor
Click HERE to make an appointment online
Email: sdross@uci.edu
Dr. Ross' CV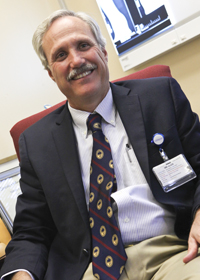 Clinical Specialty
Foot and ankle surgery
Clinical Interests
Dr. Steven Ross specializes in the medical and surgical care of orthopaedic foot and ankle problems. His practice covers all aspects of foot and ankle orthopaedics from routine screening of patients with foot pain and deformity to complex reconstruction of those patients with rheumatoid arthritis, diabetes, or traumatic injuries. He has a strong interest in the correction of deformities such as bunions and other toe deformities, as well as those that result from degenerative disease. All treatment is designed to return the individual to their highest level of functional capacity.
Research Interests
Dr. Ross continues to study the surgical correction of unstable overlapping toes, as well as fractures of the calcaneus and mid-foot. He is involved with research projects evaluating the treatment of acquired flat feet. He is developing criteria for the use of Low Field Strength Non-Homogeneous field MRI for the evaluation of foot/ankle disorders.
Background
Dr. Ross received his undergraduate degree in chemistry from Occidental College and his medical doctorate degree from the University of Southern California. He completed his surgical internship and residency in Orthopaedic Surgery at LAC/USC Medical Center. Dr. Ross currently serves as Clinical Professor in the Department of Orthopaedic Surgery at the University of California, Irvine.
Dr. Ross has a long history in participation in organized medicine. He is a former president of the California Orthopaedic Association and has been on the Board of Directors since 1990. He previously served on the Board of Counselors of the American Academy of Orthopaedic Surgeons. He is presently President-elect of the American Orthopaedic Foot and Ankle Society. He has previously held offices in the Orange County Chapter of the Western Orthopaedic Association. He presently serves as an assistant editor of the Journal of Foot & Ankle Orthopedics, Int'l., which is the official journal of the American Orthopaedic Foot and Ankle Society, as well as multiple international orthopaedic foot and ankle societies. Presently, Dr. Ross serves as the delegate to the American Medical Association representing the American Orthopaedic Foot and Ankle Society, and serves on the Health Policy Committee of the American Orthopaedic Foot and Ankle Society as well as Chairman of the Health Policy committee of the AAOS board of specialty societies.
Medical Degree
USC Keck School of Medicine
Residency
LAC/USC Medical Center
Board Certifications
American Board of Orthopaedic Surgery